Skip to product information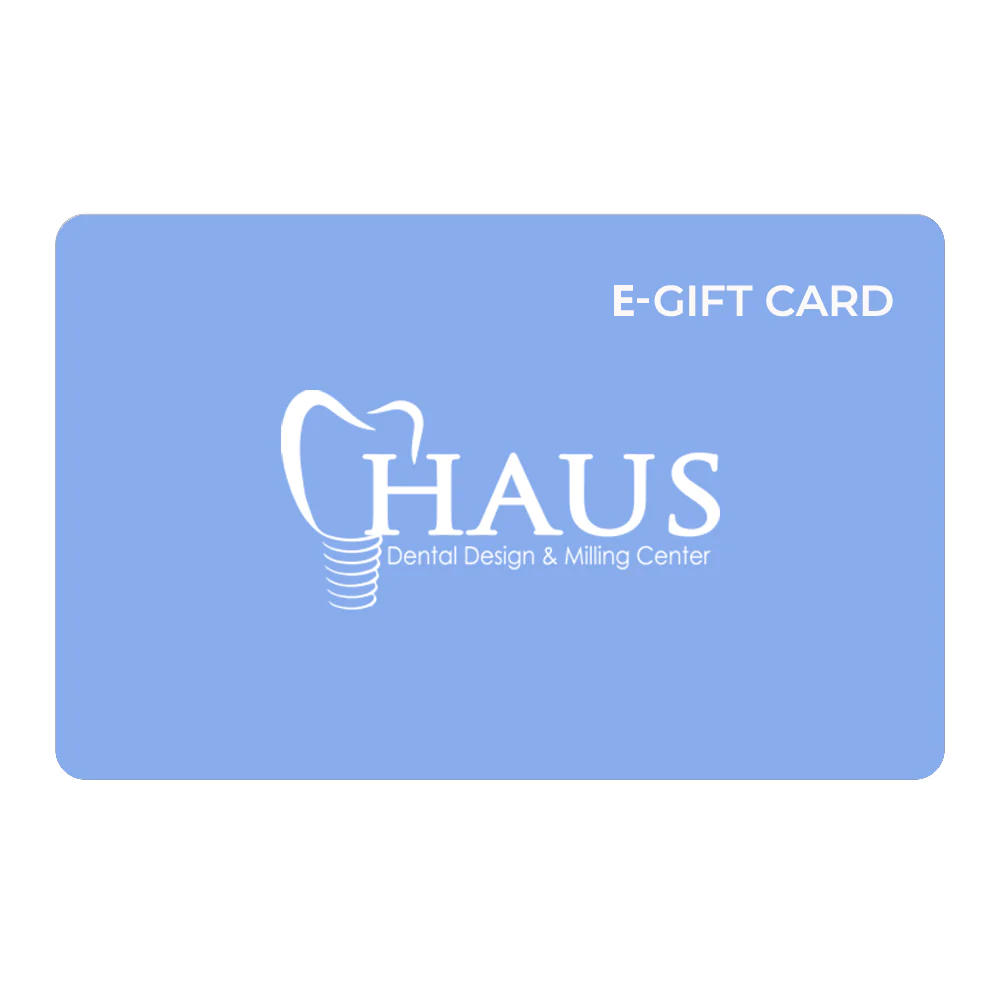 Haus E-Gift Card
Sale price
$500.00
Regular price
---
FREE ground shipping for orders over $100
FREE 2 days shipping for orders over $200
FREE 1 day shipping for orders over $300
* Excluding Alaska, Hawaii and Puerto Rico
* Non-restorative products will be delivered via ground shipping
Haus E-Gift Card 
Optimize your spending with the Haus Milling E-Gift Card, a solution to streamline complex card statements and lower your costs effectively.

Tier Discount Pricing
Choose a e-gift card of your desired value and click "Add to Cart" to include it in your shopping cart. Head to the Shopping Cart page by selecting the cart icon in the top right, and enjoy an automatic discount applied to your total. Complete the purchase with the discounted amount during the final payment process.
| | | |
| --- | --- | --- |
| Gift card Amount | Discount (%) | Sale Price |
| $500 | 3% | $485 |
| $1,000 | 4% | $960 |
| $2,000 | 5% | $1,900 |
| $3,000 | 5% | $2,850 |
| $5,000 | 5% | $4,750 |
How to use
1. Upon purchase, a e-gift card will be sent to you via email.
2. Copy the code from the e-gift card received in your email.
3. Paste the code at checkout under the E-GIFT CARD PAYMENT section. 
To inquire about the balance, utilize the balance check feature in the e-gift card email. 
If unable to check the balance or if the original email is not accessible, contact Haus Milling Center. 
Notice
E-Gift card purchases are considered final sale and are non-refundable. There is no expiration date for their use, and they cannot be exchanged for cash.

SHIPPING POLICY
Haus Dental Design & Milling Center is dedicated to offering excellent customer service. Please read our shipping policy and be sure to contact us if you have any questions. 
1. TURNAROUND TIME 
Once we have completed your work, we will ship the item(s) to you within our turnaround times during regular business hours, Monday - Friday, 8am - 5pm.
1) CARRIERS 
We use the following carriers to deliver our orders:
UPS
FedEx
2) ORDER TRACKING
If a tracking number is provided by the shipping carrier, we will update your order with the tracking information. 
2. SHIPPING RATES
The rate charged for shipping is based on the weight of your products and location. Before reaching the final checkout page, you will be shown what the cost of shipping will be, and you will the option to terminate your transaction and cancel your order. 
3. TEMPORARILY OUT OF STOCK
If a product is temporarily out of stock, we will ship you the portion of your order that is completed. When the item becomes available and the work is completed, we will ship you the rest of your order. You will not be charged any additional shipping or handling charges for the second shipment.
4. RETURNS, REFUNDS AND EXCHANGES
Please email us at info@hausmilling.com to discuss returns, refunds, or exchanges.
Because our work is made to your specifications there is rarely a need or justification for this.
5. OTHER 
Products including dess implant parts, zirconia blocks, polishing and grinding tools, nano-scan gel etc. will be shipped by ground delivery. (No matter the total amount purchased)
  
6. OUR COMMITMENT TO YOU
Haus Dental Design & Milling Center is committed to providing quality work and delivering outstanding dental products to our clients. We specialize in full and cut-back crowns, implant crowns, custom abutments, zirconia copings, and other dental solutions.
Questions? Please do not hesitate to contact us today!
REFUND AND CANCELLATION POLICY
All orders are custom made to the customer's specifications. Once production is started or completed your order cannot be canceled.
1. Cancellation
Any request to cancel a case that has been sent in for production needs to be requested by a written email. Any case cancellation will incur charges for the portion or entirety of the case that has undergone manufacturing.
Any case accepted for cancellation will be issued a Haus Gift Card to be applied on future purchases. As we do not issue refunds to the original form of payment, an in-store credit will be issued.
2. Other
Haus Milling retains the right to refuse service to any customer who does not agree to the above policies.
In the event a customer cancels an order, the customer agrees to pay Haus Milling Center for all costs and expenses incurred by Haus Milling Center in connection with the day on which Haus Milling Center receives the cancellation notice.
Please note that once opened, products such as zirconia polishing and grinding tools, zirconia blocks, nano scan gels, dess implant components, and similar items are considered non-refundable at the Haus Milling Center. 
This policy is in place to ensure the quality and safety of our products, as they may have specific storage requirements that could be compromised once opened. We strongly recommend reviewing product details, specifications, and usage instructions prior to purchase, and contacting our customer service team for any inquiries or clarifications.
3. Repairs, Re-stains & Adjustments
Repairs are free of charge.
Adjusting contacts is free of charge.
Changes or additions to cases will result in additional charges.
Re-shading that is different from the original lab slip and requires stripping and new application will incur an additional charge.
Additionally, repair cases that are being sent to our office will not be provided a shipping label. 
A Shipping method will also need to be chosen by the customer and paid for, for the return of the repair from our office.
4. Returnable Products
Product received is different from the product ordered online.
Product or material is clearly defective or milled in the wrong shade/material and cannot be used.
Once your return has been received and inspection has been completed, we will send an email informing you that we have received the returned item.
Our team members will contact you to discuss the return process further.
If you have completed the steps mentioned above, but have not received a correction, please email us (info@hausmilling.com)
5. Return Shipping
Product must be shipped to the address below:
Haus Milling Center
2835 Virgo Ln Dallas, TX 75229
We do not provide return shipping labels. Shipping charges are non-refundable. If you receive a refund, the return shipping fee will be deducted from the refund.
The arrival time of the exchanged product may vary depending on the shipping method you choose.
If you ship a product valued more than $75.00, please consider using a traceable delivery service or purchasing shipping insurance.
We do not guarantee that we will receive your returned goods.